Having a great CV is the best chance you have of getting an interview.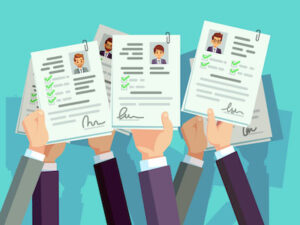 Don't get left behind because you made a basic mistake writing it.
Read our tips and make sure yours is perfect.
1. Typos & Bad Grammar
If you send a CV to a recruiter with typos or grammatical errors the only place it's going to end up is in the shredder.
Make sure to proofread your CV many times and fix any errors.
A great online site you can use for this is Hemmingway App. It's free to use – copy the text from your document into the window.
It will highlight any typos or errors in your text.
It also gives you options to change certain words or phrases that will tighten up the copy.
It takes 2 mins to do this and can make all the difference.
2. Being too Generic
Job descriptions are a list of requirements.
Make sure you detail your achievements to match this list. Be factual and put numbers behind your statements to back things up.
This shows the benefits you can bring to the role, backed by real numbers, making the job of the recruiter much easier.
Show examples where possible to reinforce things you have done in your career that prove you are the right fit.
Use bullet points to present information in an easy to read format.
3. Being Irrelevant
Don't go into detail on any of your skills that are not listed on the job description.
You may be proud of them, but if they are not relevant to the role you are applying for then just summarise them.
You may find a way to incorporate these skills into the interview if you are successful.
4. Being a Nobody
When you format your CV to send to recruiters or a hiring manager make sure to save it with the same filename as your name.
It may seem like a small thing, but think about how many CV's a recruiter gets.
This simple change gets your name out there and into a database for future opportunities.
5. Being too Fancy
A CV should be a well presented and formatted professional document.
Don't use fancy text or big bright colours.
Don't add in a picture of yourself. There is no need and this is a distraction to the person reading your CV.
Using coloured paper is also a bad idea.
Use your skills and abilities to get your CV to stand, not the paper it's printed on.
Again, this is a distraction that will get you nowhere.
6. Being too Pushy
When a suitable role comes up in your search, customise your CV and send it in.
The more times you send in a CV for jobs that you are not suited to, the more frustrated the recruiters get.
Increase your chances of getting offers when the right role comes up by only applying for suitable roles.